"A Notre Liberateur J. F. Sawicki, Jr.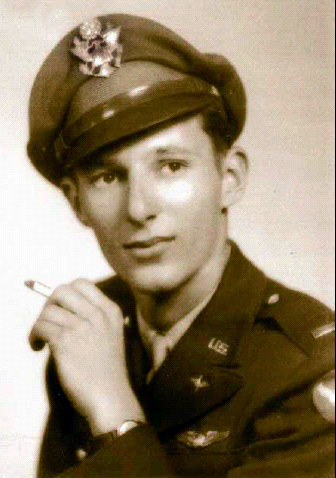 Princé, 8 June 44"
Inscription on marble plaque presented to Mrs. Adele Sawicki, Joe's wife, by the villagers of Princé.
By Stephen C. Ananian, pilot 505 FS
We all know that D-Day was on June 6th 1944. We also know that the battle to secure the beaches of Normandy lasted longer than that. The 339th and most units of the Eighth Air Force flew around-the-clock, - three missions a day from June 6th to the 8th without pause. On the last mission of June 8th the 339th participated in dive-bombing missions to targets of opportunity in the vicinity of Rennes.
The weather was very poor – 4/10 overcast. The three squadrons, armed with 500, 250 and 100 pound bombs respectively, broke up before attacking various targets which included bridges, trains and a truck convoy. While the group was strafing and bombing their targets, eight FW-190s attacked and individual dogfights broke out. The 339th destroyed all eight FW-190s and lost three aircraft and two pilots - Lt. Robert Smith (503rd) was KIA – downed by a FW-190, Lt. Joseph F. Sawicki (505th) was KIA downed by antiaircraft from the motor convoy. Also lost that day was Lt. William A. Jones (505th) whose aircraft was badly damaged by a FW-190. Jones managed to fly his crippled aircraft to England. - Unable to land his badly damaged plane, he parachuted to safety !
Lt. Sawicki was a replacement pilot that had joined the 505th on May 13th 1944 shortly after our arrival at Fowlmere. He was credited with having destroyed one Enemy Aircraft on the ground on May 27th. The details of the battle on June 8th '44 seem clear. The various accounts and mission reports for this date state that the aircraft were in "loose trail formation" waiting for their turn to bomb a German column.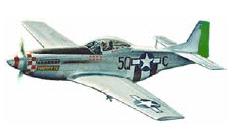 Bill Jaaskelainen our gun-camera-film archivist reports that Richard Olander's combat films of that day's dogfight (a frame

shown here on the right) shows a P-51 being shot down by a FW-190 that Olander (505th) was about to destroy. The Mustang, trailing smoke, was probably Bob Smith (503rd). French observers on the ground, confirm that Joe Sawicki was shot down by antiaircraft fire from the convoy and crashed very near the gun position he had been firing upon. 1/Lt. Jim Hanson was flight leader, and Sawicki # 4, - in his "Missing Air Crew Report" Jim states they were bombing a truck columnwhen they were met by light AA fire - he saw a Mustang trailing smoke behind as he pulled up. He believes that aircraft was flown by Joe Sawicki.

Richard Olander's gun camera film for June 8th shows P-51 trailing smoke or coolant, being fired at by a FW-190 that Lt. R. Olander and Lt. A. Sirochman later destroyed.

(W. Jaaskelainen)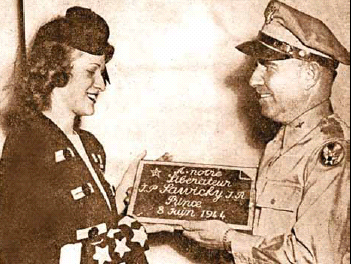 Marble memorial plaque honoring Joe Sawicki and a handmade American flag by
the villagers of Princé is shown being presented here to Joe's wife in 1946. (Sawicki)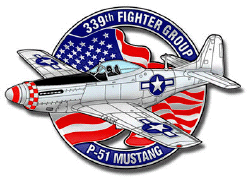 Tout en sachant que ce genre de traduction donne des résultats parfois inattendus pour certains mots.