Operational career of FlO J.P. Alcock
Jack Alcock transferred to the Royal Air Force from the British Army (Military Police) in 1941. On completing his elementary flight training at 4.E.F.T.S at Brough near Hull in Yorkshire, England he was then transferred to Moncton, New Brunswick, Canada.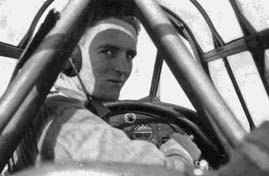 From Moncton he proceeded by train to Alabama U.S.A. for advanced flight training at various locations including Maxwell and Gunter fields in Montgomery and Craig Field in Selma1. Receiving his wings on August 5`" 1942 he returned to England on the Cunard Liner Queen Mary. After spending just over a year flying for various flights that were engaged in army co-operation work he was then posted to No.161 squadron to commence his operational duties.
No.161 Squadron of the Royal Air Force was a special duties squadron that carried out landings, mainly in France, ferrying secret agents to and from the Continent on their intelligence and sabotage tasks for the Special Operations Executive (SOE). The Lysander landings were carried out in farmer's fields. Agents, trained in Britain for the task, carefully selected the fields to be used which were then photographed from the air and approved for use by the RAF. The only markings of the flarepath were three torches, held by assistants in the field and located to form an inverted L. The flarepath layout is detailed in appendix `J'.
F/O Alcock was posted to No. 161 Squadron, based in Tempsford, Bedfordshire from No.631 Squadron, based in RAF Towyn, Wales with effect from March 20th 19442.
The following is a summary of F/O Alcock's operational duties with No. 161 Squadron. His first operational sortie was Operation ORGANIST, a double Lysander sortie to a target field in France, on the evening of 30th April 1944.
The two pilots involved in Operation ORGANIST were:
F/O J.P. Alcock flying Westland Lysander IIIa V9748: JR-D3 and
F/Lt R. Large flying Westland Lysander IIIa V9490: JR-N4.
Both planes departed RAF Tangmere at 22.30 hours5.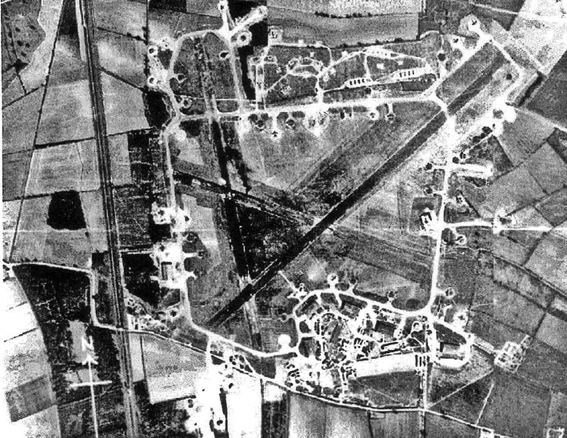 RAF Tangmere, about four miles east of Chichester, Sussex, was used by No.161 Squadron as a forward base during the moon periods because it was so much nearer to their target areas in France than Tempsford.
RAF Tempsford in 1942, vue aérienne
On board F/O Alcock's plane were two agents and one package6.
On board F/Lt Large's plane were one agent and five packages6.
The target field in France, code named HERCULE, for both planes was 13.5 Km SSW of Chateauroux, 4.25 Km W of Arthon, in the district of Indre. The alternate feld, code named FORTUNE, was 15 Km SSW of Chateauroux, 5.5 Km W of Arthon. Special instructions for the Operation stated that the Flare path was to be laid on Fortune if wind direction was unsuitable for Hercule. The reception committee was due to stand by at the target field between 22.30 hours and 01.30 hours.
Recognition letter: Air to Ground: AD Ground to Air: BN 7.
F/L Large made the first landing on the target field at 01.358.
F/O Alcock landed at the target field at 01.458.
F/O Alcock's passengers on the return trip were Philippe Liewer (Charles Staunton)9 and a second agent, naine unknown6. F/L Large's passenger on the return trip was Violette Szabo Liewer and SzaboViolette Szabo10 were SOE agents who had gone to France on the night of April 5'h 1944 being parachuted from a Consolidated B-24D Liberator bomber from the USAAF base at Harrington in Northhamptonshire that had flown to Tempsford Airfield to pick them up. On the return journey both Lysanders came under fire from the ground near Chateaudun.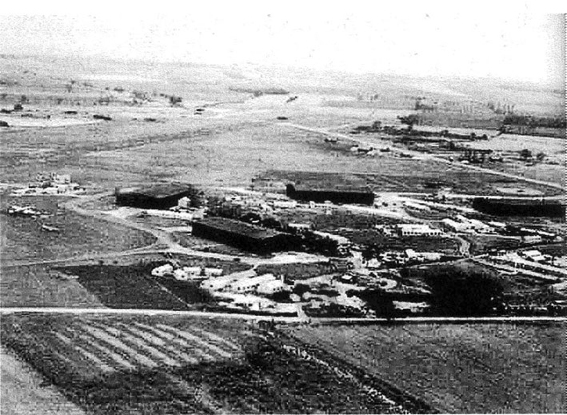 One of the tires on F/L Large's aircraft was punctured by flak which caused it to ground loop as it landed at Tempsford.
Alcock's propeller was holed, but no injuries were reported11.
F/L Large landed at Tempsford at 05.05
F/O Alcock landed at Tempsford at 05.1012.
RAF Tempsford, vue aérienne 1943
Both Philippe Liewer and Violette Szabo were considerable figures in the history of the Resistance10 and both returned to France in June 1944, again parachuting, this time from U.S.A.A.F. B24-D Liberator, 42-40538K, from Harrington that had picked them up in Tempsford. The dropping zone was in the vicinity of the village of Sussac, thirty miles to the south-east of Limoges13. The Germans captured Violette Szabo a few days after she arrived in France as she and other agents approached the village of Salon-la-Tour14. Violette was executed at Ravensbruck Concentration Camp in January 1945 together with SOE agents Denise Bloch and Lilian Rolfe15.
The Lysander `A' Flight including F/O Alcock & eight other pilots departed from Tempsford, Bedfordshire on July 29th 1944 at 10.30 hours and flew to RAF Winkleigh, Devon 16 where they arrived at 14.0017. RAF Winkleigh, near Exeter, was used as a forward base for operations during the August 1944 moon period. Tangmere, the normal forward base, was too close to the Normandy Beach-head and the area of France already liberated18. There was only one Lysander operation between D-Day and the Winkleigh, operation PALAIS19.
F/O Alcock's second operation was Operation PIROGUE, a double Lysander sortie to a target field in France on the evening of 4th August 1944.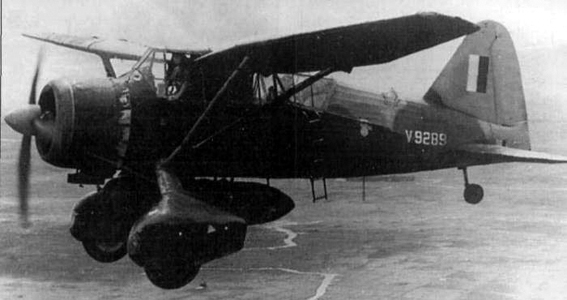 The two pilots involved in this operation were :
F/O J.P. Alcock flying Westland Lysander IIIa V9748 : JR-D20.
and F/L Peter Arkell flying Westland Lysander IIIa V....: JR-N21.
Both planes departed RAF Winkleigh, Devon at 2100 hours, 4th August 1944.
On board F/O Alcock's plane was French Resistance Agent Lucien Germereau of Réseau Écarlate(Scarlet Network)22.
Later that evening, at 2150 hours, a RCAF Mosquito night fighter from No. 410 Squadron took off from RAF Colerne in Wiltshire and was directed to a target over France by Tailcoat G.C.I.(Radar system operating in Britain).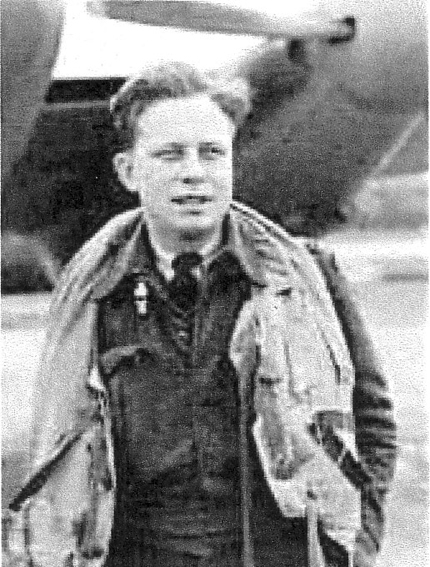 The target turned out to be the Lysander piloted by F/O Alcock. At 0030 hours on August 5th the Mosquito crew made visual contact with the Lysander and, expecting a normal chase, they closed in rapidly from the port side only to overshoot almost immediately. The Mosquito then orbited and regained contact with the Lysander on the starboard side, this time with the flaps down and with an airspeed of 130 m.p.h. The Mosquito pilot, F/L W.G. Dinsdale, followed his target for approximately 25 miles all the while attempting to identify the aircraft he had intercepted; he then fired two bursts from 400 ft at the Lysander believing it to be a Luftwaffe Henschel Hs 126.
F/O Alcock's plane exploded and crashed in flames near a farm called La Patouillais approximately one kilometer from the town of Messac, Ile et Vilaine, Brittany, France. F/O Alcock and his passenger were killed. In his report F/L Dinsdale stated that he had great difficulty in identifying the aircraft he had intercepted; he did note that it carried a long range fuel tank between undercarriages but he could see no national markings23.
The tags he was wearing, one red, and one green, inscribed "R.A.F. 127192 F/O J.P. Alcock, 2A R.C.", identified F/O Alcock. His funeral took place 24 the next day at 6.30pm, Saturday August 6h 1944ANNOTATIONS, at Messac's Parish Church24.
The documents he was carrying identified Agent Lucien Germerau as Lucien Pradier, this being his cover name and he was buried next to Jack as Lucien Pradier.
F/L Arkell, flying some distance behind F/O Alcock, saw a ball of fire in the night sky ahead of him and was told upon landing at the target field that
F/O Alcock had not arrived26. F/L Arkell landed on the target field at 02.30 hours returning safely to Winkleigh with two men, Claude Thierry-Mieg and Leon Dupont21, and a girl, name unknown, and 5 packages, landing at 05.5020 hours August 5.
On the night Jack Alcock was killed, a total of five Lysanders left Winkleigh for various destinations in France and all the aircraft, except Jack's, returned safely to Winkleigh. The next night, 5/6th August, two more Lysander operations were undertaken and one Lysander landed on the exact same field in Vatan that F/L Arkell had landed on the night before. On the night of 7/8th August the last Lysander operation from England to France was undertaken, that was Operation GENISTA which failed due to bad visibility.
Other special duties aircraft were shot down by our own night fighters. On the night of 20/21th March 1945, for example, three Hudsons were shot down over France by our night fighters, prompting the remark from Hugh Verity, in his book We landed by Moonlight, "There is some doubt which side they were on."
It is not known who made the initial connection between the Mosquito pilot's report and the loss of the Lysander. What is known is that a Court of Inquiry was held and as a result of that Inquiry the claim made by the Mosquito Pilot was not administered. It is also known that entries in both No.161 Squadron and No.410 Squadron Operational Record Books point to the Lysander having been shot down by the Mosquito. I asked F/L Peter Arkell if he could shed any light on the Mosquito story, but his only comment was that it was a dark night and all he saw was a ball of fire in the night sky ahead of him.